Group Exercise Rooms
With a 2,000 sq. ft. group exercise room and a 750 sq. ft. dedicated spin room, we have a wide variety of classes to offer. And, when the group class room isn't in use, it's available for Fitness on Demand - a an extra large projection screen with tons of virtual classes to chose from.
---
Accumulator
---
BODYblast
---
Butts-n-Guts and Top & Bottoms
What do people complain most about in regards to their bodies? Their butt and their gut! This one hour class focuses on those problem areas...glues, legs, and abs. Cardio mixed in with weight training and body weight exercises
.
---
Sassy Shapers

A program that combines a variety of exercises and equipment specially tailored to the needs of beginners, senior citizens, or those who want a slower pace. You will find fun, easy, and effective exercises that focus on all the fitness needs such as: balance, flexibility, coordination, and strength while losing weight.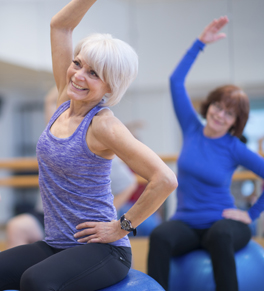 ---
Silver Sneakers
Silver Sneakers is a fun energizing program that helps older adults take greater control of their health by encouraging physical activity and offering social events. Did you know 1 out of 5 people 65 and older are eligible for this fitness benefit? If you're a group retiree or part of a Medicare health plan, you may already have a SilverSneakers membership.
---
Spinning

This program burns more calories than any other cardio workout! With no complicated moves to learn, top-notch instructors, and music that begs your legs to pedal-getting into shape has never been more fun. If you come on Friday's you may even walk out with a prize!
---
Cardio Stations
1 hour of heart thumping cardio! Participants will move between a number of stations using equipment such as battle ropes, kettle bells, rowing machines, and plyo boxes. We will do some lifting, but this class is focuses on getting the heart rate up and torching calories!
---
Amazing Arms
45 minutes of muscle building arm workouts using hand weights, barbells, body weight, and TRX suspension straps - with focus only on the upper body. Guaranteed to feel the burn for a couple of days.
---
R.I.P.P.E.D
Combines Resistance, Interval, Power, Plyometrics, Endurance, core and a very important Diet program. Designed to help everybody meet their ultimate fitness goals in a super fun group exercise environment.
---
Kettlebells
A kettlebell looks like a cast-iron cannonball with a handle on top. They come in various weights. You'll use them as you do things like lunges, lifts, and shoulder presses. All exercises can be modified. Catch a great sweat and have fun while doing it!
---
Sculpt
Sculpt is a flow based class (similar to yoga or Pilates) geared towards working the whole body. Expect a mostly strength based workout with some cardio elements. Each class will provide new challenges utilizing numerous training tools (body weight, resistance bands, balls, sliders, etc), but is totally modifiable.
---
MFR
Myofascial Release (MFR) uses manual pressure (like massage) to relax and release tight muscles and fascia (connective tissue running throughout the body), followed by deep stretching. We will be using foam noodles and rubber balls to release the tension in particular muscles and muscle groups, and then will follow up with stretching to restore range of motion to relaxed muscles. MFR can help with some chronic pain, tension headaches, restricted breath, and more! Expect to feel more relaxed, less tense, even taller!